Apple's CarPlay Works Alongside BlackBerry's QNX Car Platform
Apple's newly unveiled CarPlay iOS vehicle integration system, which allows an iPhone to take over the in-dash display of a car, has been designed to work with BlackBerry's QNX operating system. The QNX Car Platform powers many in-car infotainment systems and includes a mobile connectivity framework that supports many mobile development environments, including iOS.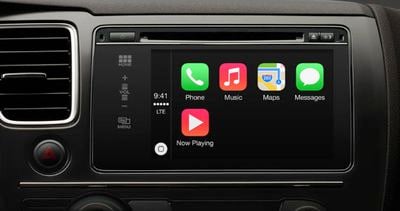 In a statement made to Lucas Atkins of N4BB, BlackBerry's Paul Leroux confirmed that CarPlay works alongside the QNX systems installed in many cars.
Connectivity to smartphones and other mobile devices is a key strength of QNX Software Systems' platform for car infotainment systems, and many automakers and tier one automotive suppliers use our platform to implement smartphone/head-unit integration in their vehicles. We have a long-standing partnership with Apple to ensure high-quality connectivity with their devices, and this partnership extends to support for Apple CarPlay.
CarPlay, which requires an iPhone to function, can be likened to Apple's AirPlay, mirroring the iPhone's display and functionality to the existing in-car infotainment system.
Since CarPlay was announced yesterday, multiple manufacturers, including Volvo, Ferrari, and Mercedes-Benz have shown off vehicles with CarPlay integration. Other manufacturers, such as Honda, Jaguar, Hyundai, and more, are expected to launch vehicles with CarPlay support in 2014.