Apple Gets Final Go Ahead for New San Francisco Flagship Store
Apple has received final approval for its upcoming Union Square Apple Store from the San Francisco Planning Commission and the city's Board of Supervisors, reports Re/code. With the go ahead from the city, Apple can begin construction on the new store, which is located approximately three blocks away from its existing San Francisco store.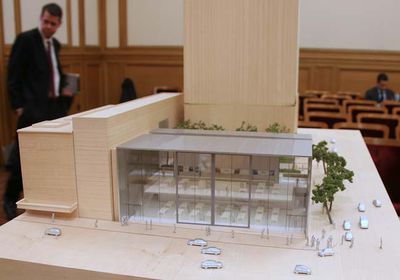 A model of the San Francisco Apple Store courtesy of ifoAppleStore
"We are thrilled that the city of San Francisco has given its final approval to begin work on our new store and public plaza, which will make a wonderful addition to Union Square and create hundreds of local jobs," Apple spokeswoman Amy Bessette told Re/code. "Our Stockton Street store has been incredibly popular, welcoming over 13 million customers since it opened nine years ago, and we look forward to making a new home on Union Square."
Apple first earned final approval from the planning commission in February and it received a necessary zoning concession from the San Francisco Board of Supervisors last week after agreeing to revise its initial building plans. Apple's original plan, which received some criticism, called for the removal of the historical Ruth Asawa fountain at the location and the installation of an 80-foot wide wall along a key pedestrian and transit corridor.
The company filed a revised plan back in August, pledging to move the fountain to a nearby location, add an eight-foot wide window for visual interest, and move the glass wall of the store back by four feet.
Apple's new Union Square store will be located in the former Levi's building at the corner of Post and Stockton streets. Renderings of the location have suggested it will have massive 44-foot tall sliding glass panels at the entry way, with an Apple representative calling the location "more iconic" than the company's well-known Fifth Avenue store in New York City.