Apple to Relocate Flagship San Francisco Retail Store to Union Square
Apple's San Francisco flagship retail store has been a particularly high-profile location for the company since it opened nine years ago, but the San Francisco Chronicle reports that Apple has submitted plans to move the store to a new location three blocks away. The new location at Stockton and Post streets will be directly adjacent to Union Square, the focal point of San Francisco's high-end shopping district.
Supervisor David Chiu said he hoped the new silver box-shaped computer store and customer service center would "turbo-charge" the Union Square area, which has long been home to many of the city's high-end retailers.

The new outlet will occupy the space at Stockton and Post streets formerly occupied by Levi's and be about 45 percent larger than the existing space, though it will include all the same features.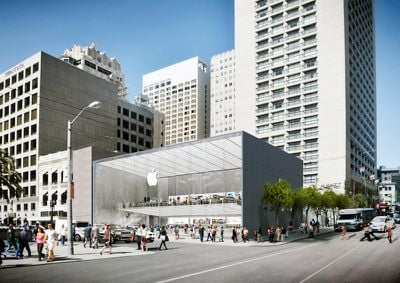 Rendering of new San Francisco flagship store on Union Square
Apple says that the new location will increase its staff from the current 350 to 400 at the new location, but no timeline for construction and the move has been announced.
The current flagship store at 1 Stockton Street is located directly adjacent to an entrance for a subway station serving both San Francisco's Muni Metro and the broader BART rail system. The new location is several blocks from the main Market Street transit corridor, but remains well served by transit and city officials hope that the new location will help draw more customers into the Union Square shopping district. San Francisco is also in the early stages of work on a new Central Subway line that will include a station directly at Union Square.
Update: AllThingsD has several larger images and a statement from Apple about the new store.
"We're thrilled to be working with the city of San Francisco on a new Apple retail store at Union Square," Apple said in a statement to AllThingsD. "Our store on Stockton Street has welcomed over 13 million customers since it opened nine years ago, and we look forward to serving them in an amazing new location when this project is complete."