New Video Shows 'iOS in the Car' Functionality from iOS 7.0.3 in Action
Last week, app developer Steven Troughton-Smith shared a series of screenshots of what seemed to be Apple's "iOS in the Car" feature announced by Apple as "coming soon" to iOS 7 devices. The feature is intended to allow an iOS device to take over the in-dash display of a car, providing access to navigation, phone functions, messages, and music.
Troughton-Smith has now posted a video showing iOS in the Car in action, via a barebones implementation that is actually present in the already released iOS 7.0.3 but not accessible by default. The video shows the feature being run in the iOS Simulator software for developers, with the in-dash display represented by a separate 800x480 window.
In notes posted alongside the video, Troughton-Smith points out that the iOS in the Car feature supports multiple resolutions of external displays, touch input and hardware controls, and voice input.
- Supports Multiple Resolutions
- Supports touchscreens (presumably single-touch?), hardware buttons, wheels and touchpads
- Does not support multitasking - car display will always show same current on-screen app as iPhone (which can be locked/asleep)
- Whitelisted to specific Apple apps - no public API for developers [yet?]
- Has no keyboard UI - voice recognition as input
- UI clearly subject to change
- Missing functionality in video is due to iOS Simulator not containing all the stock iOS apps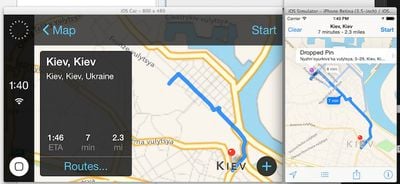 iOS in the Car from iOS 7.1 (Source: Twitter)
Troughton-Smith does also point out that the user interface is subject to change, and while the demo shown in the video resembles the screenshots shown on Apple's site, his earlier screenshots and a
Twitter response
indicate that the overall look has indeed seen a redesign for iOS 7.1, bringing more of the blue text and overall feel of iOS 7 to the in-vehicle display.