iOS in the Car 'Very Important' to Apple, 'Part of the Ecosystem'
During the question and answer portion of today's third quarter earnings call,  Apple CEO Tim Cook was asked about iOS in the Car, which was a highlight of the company's keynote presentation at WWDC. Cook said that it was an important "part of the ecosystem," likening it to the App Store, iTunes, messaging, and Siri.
"Having something in the automobile is very important," he said. "It's something people want." He went on to say that Apple could "do it in a unique way better than anyone else," and that it was a "key focus" for the company.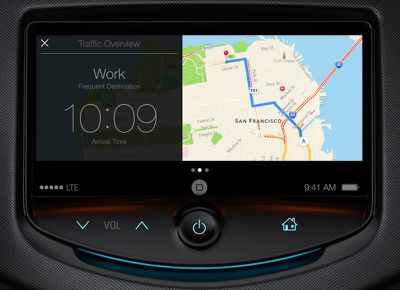 iOS in the Car is designed to provide enhanced iOS integration in automobiles, offering hands-free controls that allow drivers to access maps, get directions, and control music by displaying content on the navigation screen of the car.
iOS in the Car seamlessly integrates your iOS device — and the iOS experience — with your in-dash system. If your vehicle is equipped with iOS in the Car, you can connect your iPhone 5 and interact with it using the car's built-in display and controls or Siri Eyes Free. Now you can easily and safely make phone calls, access your music, send and receive messages, get directions, and more. It's all designed to let iPhone focus on what you need, so you can focus on the road.
The feature is expected to be integrated into a number of new cars in 2014, from manufacturers like Honda, Acura, Mercedes-Benz, Nissan, Infiniti, Ferrari, Chevrolet, Hyundai, Kia, Volvo, Opel and Jaguar.
According to settings hidden within iOS 7, iOS in the car may potentially work over AirPlay in addition to USB. iOS in the Car will be officially unveiled later this year alongside the release of iOS 7.
Last year, Apple debuted Siri 'Eyes Free,' which made its first appearance in the Chevy Spark and Sonic cars earlier this year.