Indie developer Dong Nguyen has achieved an App Store first -- he has three apps in Apple's Top Free Apps list including the viral hit Flappy Bird [Direct Link], the now #2 Super Ball Juggling [Direct Link] and the #8 Shuriken Block [Direct Link]. Dong is unable to explain his recent success, chalking it up to luck and not any particular effort on his part. As a result, it likely wasn't Dong's activity but the power of the social Internet that propelled his games to the upper echelon of the App Store.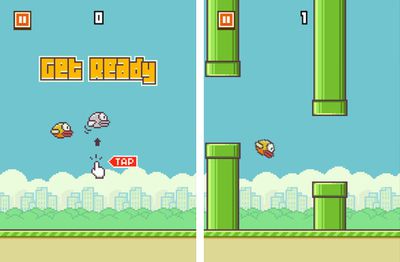 Dong notes in an interview with Elaine Heney of Chocolate Lab Apps (via TechCrunch) that he did zero promotion for Flappy Bird and claims he doesn't even own the social network accounts for the app.
"I didn't use any promotion methods. All accounts on Twitter, Facebook and Instagram about Flappy Bird are not mine. The popularity could be my luck."
What Heney did notice about Flappy Birds was a viral campaign to write the best review for the game. As a result of this challenge, the app now has over 47,000 reviews and almost a half a million ratings. These statistics put Flappy Bird on par with powerhouse apps like Evernote and Gmail.
Flappy Bird launched in May 2013 and only recently topped the iOS App Store charts. The app challenges players to keep a flying bird from running into pipes by tapping the screen. Its 8-bit graphics give the appearance of simplicity, but it is a deceptively difficult game that is so hard to master that most people score in the single digits and brag about their failure. Dong's other two hits are equally basic and are likely receiving attention due to the popularity of Flappy Bird.