Federal Bill Would Mandate Anti-Theft 'Kill Switch' in All Smartphones
Following last week's introduction of a California State bill that would require all cellular phones sold in the state to include antitheft technology, four senators have today introduced (via Re/code) The Smartphone Theft Prevention Act, a similar federal bill that would mandate the inclusion of such a "kill switch" in all smartphones sold across the country.
The bill would require smartphones to be equipped with both a kill switch to make a lost or stolen device inoperable and a system allowing consumers to remotely wipe their personal data.
"This legislation will help put consumers in control of their cell phone data through a 'kill switch' to immediately disable a stolen phone. Victims of cell phone theft should be able to fight back so they aren't victimized again through data and identity theft. And thieves should know that whenever they steal a cell phone, they won't be able to use it or sell it."
Introduced by U.S. Senators Amy Klobuchar, Barbara Mikulski, Richard Blumenthal, and Mazie Hirono, the act is also supported by New York State Attorney General Eric Schneiderman and San Francisco District Attorney George Gascón, who have both been highly vocal about decreasing smartphone theft through a kill switch system built into smartphones.
As with the California bill, it is likely that Apple's Activation Lock, introduced alongside iOS 7, satisfies the listed requirements. Activation Lock effectively disables a stolen smartphone by preventing it from being wiped and reactivated without an Apple ID and password. Apple's Find My iPhone also allows for devices to be remotely wiped and locked.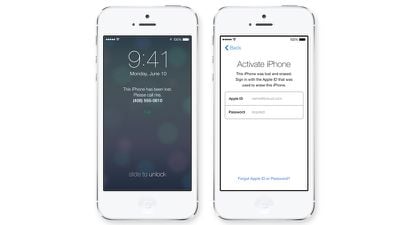 Cellular industry group CTIA has already spoken out against the newly introduced legislation, calling on lawmakers to criminalize tampering with mobile device identifiers rather than requiring cell phone manufacturers to build kill switches into their devices.
"Rather than impose technology mandates, a better approach would be to enact Senator Schumer's legislation to criminalize tampering with mobile device identifiers. This would build on the industry's efforts to create the stolen device databases, give law enforcement another tool to combat criminal behavior, and leave carriers, manufacturers, and software developers free to create new, innovative loss and theft prevention tools for consumers who want them."
The CTIA has long opposed kill switches and instead supports a nationwide database of stolen phones as an alternative solution. Though a database of stolen phones was created in cooperation with the four major U.S. carriers in 2012, it is said to be largely ineffectual.
Note: Due to the political nature of the discussion regarding this topic, the discussion thread has been moved to our Politics, Religion, Social Issues forum. All forum members and site visitors are welcome to read and follow the thread, but posting is limited to forum members with at least 100 posts.