Apple Releases iOS 7.1 Beta 5 to Developers With Siri Language Improvements
Apple today released the fifth beta of iOS 7.1 to registered developers for testing purposes, following the release of the fourth iOS 7.1 beta on January 20. The update has a build number of 11D5145e and is available via an over-the-air update and through Apple's developer center website.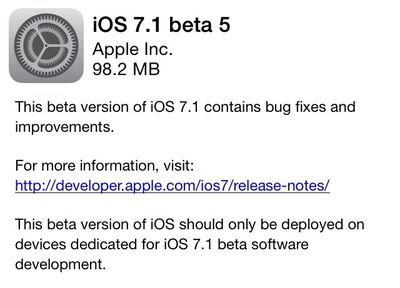 According to the release notes, iOS 7.1 beta 5 includes new natural-sounding Siri voices for English (Australia), English (United Kingdom), Japanese, and Chinese (Mandarin - China). It also notes that a compact version of Siri is bundled with the release for the new languages, but can be expanded to the more natural voice after install.
The iOS device initially uses a compact voice for Siri. After you have configured a Wi-Fi network and have the device connected to a power source, iOS will automatically download and install a higher quality version.
Earlier betas of iOS 7.1 have introduced a number of features, including "Button Shapes" in Accessibility, more prominence for Touch ID and Passcode options, a new look for several aspects of the Phone dialer and shutdown screen, a new animation for "Slide to Unlock" and a slightly revamped color for the Phone, FaceTime, and Messages app icons.
Details on features in past beta releases can be found in our previous beta posts: Beta 1, Beta 2, Beta 3, Beta 4.
Today's update also includes Xcode 5.1 Developer Preview 5 and a new version of the Apple TV beta software.
Update: iOS 7.1 beta 5 includes redesigned shift and caps lock keys on the keyboard.


Shift enabled to the left, shift disabled in middle, caps lock enabled to the right
Wallpaper options have also been tweaked slightly and the button to disable parallax is now called "Perspective Zoom" instead of "Motion."