Apple Releases iOS 7.1 Beta 4 to Developers
Apple today released the fourth beta of iOS 7.1 to registered developers for testing purposes, following the release of the third iOS 7.1 beta at the beginning of this month. The update has a build number of 11D5134c and is available via an over-the-air update or through Apple's developer center website.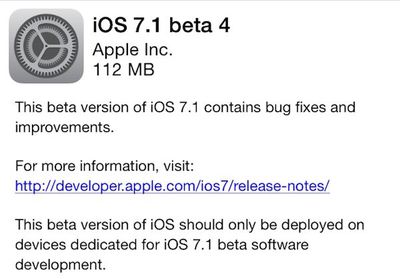 The last version of iOS 7 available to the public, iOS 7.0.4, was released back in November. There are still several known issues for Apple's engineers to address, so iOS 7.1 will likely not be released to the public without at least one more round of beta testing.
Today's update also includes Xcode 5.1 Developer Preview 4 and a new version of the Apple TV beta software. Earlier today, it was rumored that Apple would soon be releasing the next beta of iOS 7.1.


While there were a wide array of UI tweaks in Beta 3, it appears that Beta 4 focuses much more on behind-the-scenes changes. The only UI change our readers have been able to find so far is a modest tweak to the Slide to Unlock animation to make it "shinier".