Pebble Debuts New Appstore for Pebble Smart Watches
First announced back in December, Pebble today launched a dedicated Pebble appstore featuring an array of apps that can be downloaded onto the company's line of smart watches.
The appstore, which functions similarly to other app repositories from companies like Apple and Google, aggregates all of the third-party apps developed for the Pebble Smart Watch. While apps have existed for the smart watch for quite some time, having a central download location will improve content discovery on the device.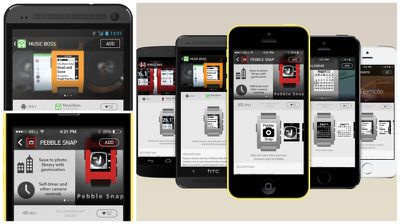 Pebble's mission is to make products that mesh easily with your life. Until now, Pebble users discovered apps and watchfaces through several awesome third party resources like MyPebbleFaces. The Pebble appstore changes all this by providing a simple one-stop-shop for you to discover, manage, and install apps and watchfaces.
Pebble's original Pebble Smart Watch and the Pebble Steel can both access the appstore, which organizes apps into individual categories complete with ratings. The Pebble appstore is the first official Pebble app and can be accessed directly on the Pebble watch following an iOS app update that is currently rolling out.
Pebble owners can use the appstore to download and manage their smart watch apps, as the Pebble watches are limited to eight apps each. Though there is an app limit, Pebble does incorporate a Pebble Locker allowing frequently used apps to be installed and uninstalled quickly.
The appstore is organized into six different categories, including Daily, Tools & Utilities, Notifications, Remotes, Fitness, and Games. Like Apple's App Store, each category features a selection of both new and top apps.
Watchfaces are also available in a separate category and at the current time, all Pebble apps are available for free as the appstore does not support paid applications. Developers can, however, create apps that work alongside an iOS companion app.
More than 1,000 apps are published in the Pebble appstore, including apps from major companies that Pebble has partnered with, including Yelp, GoPro, and Foursquare.
As part of its Pebble Steel review, Engadget took an early look at the Pebble appstore and was satisfied with the number of apps available.
As is, we were wholly satisfied with the number and scope of available apps -- even in its beta stage, we don't feel there are any "must-haves" missing.
Pebble's line of smart watches can be purchased from the Pebble website for $150 to $249. The accompanying Pebble Smartwatch app can be downloaded from the App Store for free. [Direct Link]
Update: The Pebble iOS update that includes the Pebble appstore is now live.