Apple Releases iOS 7.1 Beta 3 to Developers
Apple today released the third beta of iOS 7.1 to registered developers for testing purposes, following the release of the second iOS 7.1 beta in mid-December. The update has a build number of 11d5127c and is available via an over-the-air update or through Apple's developer center website.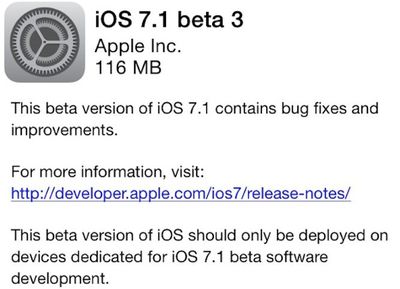 The first and second betas of iOS 7.1 bundled multiple bug fixes along with several new features including a new "Button Shapes" option in Accessibility and a more prominent location for Touch ID and Passcode options. The third beta includes fixes for audiobook playbook and iCloud account setup with iCloud Keychain, but there are undoubtedly other tweaks that have not been documented by Apple.
According to a recent report, iOS 7.1 will see a lengthy testing period with a public release coming in March. Beta 3's release notes indicate that a number of known issues remain with iOS 7.1, which must be fixed before the software can see a general release.
The last version of iOS 7 available to the public, iOS 7.0.4, was released back in November.
Today's update also includes Xcode 5.1 Developer Preview 3 and a new version of the Apple TV beta software.
Update: While the "dark keyboard" option that was added in beta 1 and removed in beta 2 has not returned in beta 3, Apple has tweaked the standard keyboard slightly, most notably with a new look for the delete key.


Beta 3 also includes a new look for the confirmation screen when powering down the device, while the Phone dialer now uses round "call" and "end" buttons rather than large rectangular ones. The incoming call screen also adopts the round buttons as part of a redesign.


The green color of the Phone, FaceTime, Messages app icons has been toned down slightly, while there is an expanded "Increase Contrast" section in the Accessibility settings that now has three separate settings allowing users to reduce transparency, darken colors (added in iOS 7.1 beta 1), and reduce white point (new in iOS 7.1 beta 3).
There is a new option to turn parallax on or off when setting wallpapers.