iOS 7.1 Beta 4 May Be Released to Developers Tomorrow
Apple may be close to releasing iOS 7.1 beta 4 to developers, according to a report by BGR. The new beta is reportedly in the hands of testing partners and is slated to be released to developers as soon as tomorrow. The beta will be the fourth of a reported six planned developer builds for iOS 7.1.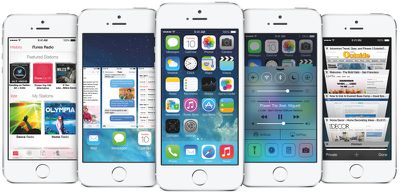 We are told there are various fixes in this latest version, including fixing keyboard issues, problems with the contacts app, more changes to the phone UI, and other changes. We have heard from sources that with iOS 7.1, Apple is working very hard to address some large memory bugs and other issues in iOS 7 that have caused crashes and restarts for a lot of people. Additionally, iOS 7.1 should help unify iOS 7 better graphically, with various user interface updates across the entire system and in apps for a more cohesive feel.
BGR has a bit of a hit-or-miss track record when it comes to predicting iOS releases, but the timing for a new iOS 7 beta release makes sense. Apple tends to release new beta versions every few weeks, and tomorrow would be two weeks since the release of iOS 7.1 beta 3. It should be noted that the build number mentioned by BGR for the fourth beta, 11D5127c, is actually for the current iOS 7.1 beta 3. A possible typo, however, doesn't invalidate the entire rumor, and therefore it remains plausible that the beta 4 is still in the pipleline for a developer release tomorrow.