A Closer Look at the New MacBook Pro's Retina Display
AnandTech takes a closer look at the new MacBook Pro's 2880x1800 Retina display, revealing just how well the display stacks up against its predecessor and other notebook displays and delving into the details of how it handles various resolutions.
In looking at scaling, the report explains the new slider option in System Preferences that allows users to select from a spectrum of resolutions that include not only the 1440x900 resolution in Retina quality using the full 2880x1800 pixels, but also larger desktop spaces at 1920x1200 and 1680x1050.
Retina Display MBP owners now get a slider under OS X's Display Preferences that allow you to specify desktop resolutions other than 1440 x 900. At 1440 x 900 you don't get any increase in usable desktop resolution compared to a standard 15-inch MacBook Pro, but everything is ridiculously crisp. If you're like me however and opted for the 1680 x 1050 "high-res" upgrade last generation, this won't do. Thankfully Apple offers 1680 x 1050 and 1920 x 1200 scaling options that trade a bit of image quality and performance for added real estate.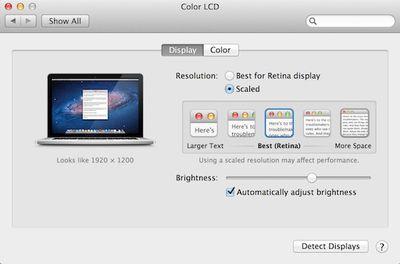 AnandTech's report also describes how Apple's display design has done away with the cover glass that in some circumstances suffers from significant glare on the standard non-Retina MacBook Pro. Phil Schiller noted during the keynote introduction that glare has been reduced 75% from the previous MacBook Pro, and AnandTech calls the Retina MacBook Pro's glare "remarkably close" to that seen on an earlier-generation matte MacBook Pro.
Comparing color and contrast, AnandTech discovered that the Retina MacBook Pro's display has remarkably improved black levels, which help compensate for slightly lower brightness. Contrast is also excellent, making for crisp and vivid content display.


As with Retina displays on iOS devices, Apple automatically scales text to display at the crisper Retina resolution, but it is dependent on apps using Apple's text rendering. AnandTech notes that Google Chrome currently uses its own text rendering engine and is thus unable to take advantage of the sharper text available in Safari.
Finally, the report takes a look at how games handle the Retina display, with Diablo III taking full advantage of the 2880x1800 display as touted by Apple during the keynote. Some games are able to see the full resolution while others are limited to the "non-Retina" resolutions topping out at 1920x1200, but it seems reasonable to believe that over time game developers will be building in support for the ultra-high resolution of the new MacBook Pro.