Apple Publishes Report Outlining Government Information Requests
Apple today published a Report on Government Information Requests [PDF], outlining statistics on government and law enforcement requests it has received seeking information about individual users or devices from January to the end of June.
We believe that our customers have a right to understand how their personal information is handled, and we consider it our responsibility to provide them with the best privacy protections available. Apple has prepared this report on the requests we receive from governments seeking information about individual users or devices in the interest of transparency for our customers around the world.
In the report, Apple specifies that it has "no interest in collecting customer data" and details the number of law enforcement requests that it has received, the number of accounts specified within the requests, the number of accounts that Apple supplied data for, and the number of requests Apple objected to.
According to the data, Apple received 3,542 device information requests, for 8,605 devices. Apple provided data for 88 percent or 3,110 of those requests. The company also received between 1,000 and 2,000 requests for account information for 2,000 to 3,000 accounts, but is unable to disclose the information that it provided. Apple also provided information for law enforcement agencies in a number of other countries.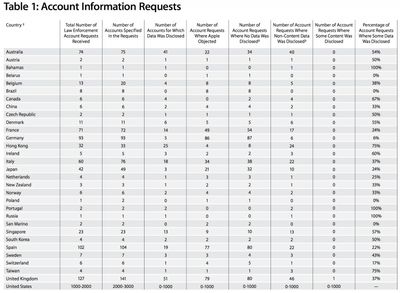 Click for Full Size
Apple reports that it has published all of the information that it is legally allowed to share, which does not include the number of national security orders, the number of accounts affected by orders, or the content disclosed. Apple notes that it is continuing to seek greater transparency in government, to attempt to provide better privacy disclosures to customers.
Apple's disclosures come following news of a top secret intelligence data gathering program called 'PRISM', which was revealed in June. A number of tech companies, including Apple, were accused of providing the government with direct access to user data.
In response, Apple published a statement of "Commitment to Customer Privacy" denying its participation in PRISM and teamed up with a number of tech companies to form an alliance requesting greater NSA surveillance transparency, allowing it to provide customers with regular reports on security related requests.
Apple and other companies also met with President Obama in August to discuss privacy issues and government surveillance. Most recently, Apple and 30 other technology corporations signed a letter urging the U.S. Congress to pass the Surveillance Order Reporting Act of 2013 and the Surveillance Transparency Act of 2013, which would result in increased surveillance disclosures and would give technology companies the right to publish detailed statistics on demands for user data.
Update: As noted by FOSS Patents, Apple has also filed an Amicus brief with the Foreign Intelligence Surveillance Court in support of a group of cases (filed by Microsoft, Yahoo, Facebook, and LinkedIn) requesting greater transparency. "The Court should declare that the providers have a right to disclose accurate information about the number of national security requests received and the number of user accounts affected," reads the brief.
TechCrunch also notes that Apple has cleverly specified in the report that it has not "received an order under Section 215 of the USA Patriot Act" and would "expect to challenge" such an order if served. If the section 215 disclosure disappears from future privacy reports, it will potentially serve as a "warrant canary" indication that Apple did indeed receive an order under section 215.
Note: Due to the political nature of the discussion regarding this topic, the discussion thread is located in our Politics, Religion, Social Issues forum. All forum members and site visitors are welcome to read and follow the thread, but posting is limited to forum members with at least 100 posts.