iPad and iPhone Usage Remains Strong Among U.S. Teenagers
Both Apple's iPhone and iPad continue to remain popular with U.S. teenagers, according to Piper Jaffray analyst Gene Munster's latest semiannual teen survey. 55 percent of teens now own an iPhone, compared to just 48 percent from a survey conducted in April and 40 percent in the fall of 2012.
Our most recent semi-annual Teen survey demonstrates that Apple remains the most popular tech brand amongst teens. As of Fall 2013, the iPhone represented nearly 55% all phones used by teens and the iPad family remained at close to 70% share of tablet ownership. We believe that while Samsung seemingly had some momentum with teens over the past year, Apple's brand and product quality has enabled it to remain the top choice for teen consumer electronics.
When it comes to tablets, 56 percent of teens own one, up from 51 percent in April. 68 percent of those own an iPad (60% full-sized, 8% mini), which is the same percentage that owned an Apple tablet in the spring, though ownership has shifted slightly towards the mini (63% full-sized, 5% mini).
As for future ownership, 65 percent of teens expect their next phone to be an iPhone, up from 62 percent. Of teens that expect to get a tablet in the next six months, 64 percent plan to get an iPad. Android tablets have seen increasing interest from the younger age group as well, thanks to low-priced options like the Kindle Fire HD.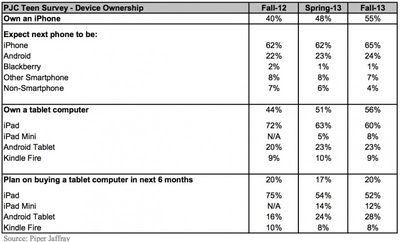 For those teens who expect to purchase a tablet in the next 6 months, 64% said they plan on buying an iPad, thus it appears that Apple should be able to maintain its tablet share. Given iPad segment ASP changes, it is apparent that the iPad Mini is growing in popularity; however, based on the purchase intent for teens, it appears that the full-sized iPad remains highly desired. We note that a design change in the near future could help demand and consequently ASPs.
Though Samsung has attempted to portray the iPhone as a device for "uncool" parents, Munster's newest survey suggests that the iPhone continues to gain market share among teens while Android phones become less popular with the group.
Younger customers have always been important to Apple as it gives the company a chance to create lifelong customers. Apple's recently released iPhone 5c seems to be targeted at a younger crowd in particular, with its lower price point and colorful design.
Though iPads have lost market share among teenagers over the last two years, they could see a significant popularity surge in the future, as Apple prepares to launch a redesigned fifth-generation tablet iPad and a Retina iPad mini.