Nearly Half of Surveyed U.S. Teens Using iPhones, Over One-Third Using iPads
Piper Jaffray analyst Gene Munster today released the results of his semi-annual survey of U.S. teenagers, finding that iPhone and iPad usage remains strong among the 5,200 teens included in the study. According to the report, 48% of teens now report that they are using iPhones, up from 40% just six months ago.
We believe this demonstrates that Apple remains the top choice for teens despite more competition from Samsung. Additionally, the survey demonstrated that 62% of teens expect their next phone to be an iPhone, which we believe shows that the iPhone has loyalty amongst teens. In terms of Android, 23% of teens expect their next phone to be an Android device, up from 22% in Fall 2013. We believe that the Samsung Galaxy S3 and eventually the S4 are taking share from other Android devices, but little from Apple in terms of the teen demographic.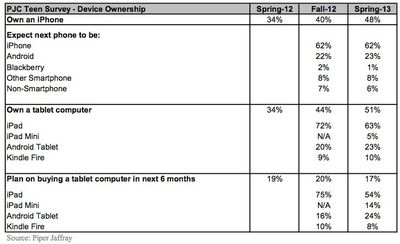 In looking at tablets, 51% of teenagers now report using a tablet, up from 44% six months ago. Of those 51%, 63% are using full-size iPads and 5% are using iPad minis, meaning that nearly 35% of teenagers in the survey are currently using Apple tablets.
For those teens that expect to purchase a tablet in the next 6 months, 68% said they plan on buying an iPad, thus it appears that Apple should be able to maintain its tablet share. The iPad Mini is beginning to show its impact as the 68% of those who plan to purchase break down into 54% for full sized iPads and 14% for iPad Minis. We would expect the iPad Mini to continue to cannibalize the full sized iPad in our continuation of the survey as we expect the breakdown in sales to reach 50/50 in the March quarter.
Samsung has attempted to play up its appeal with younger consumers through ads portraying the iPhone as uncool, with one ad poking fun at Apple fans waiting in line for the latest gadget by showing one Samsung user in the line actually saving a spot for his parents. But Piper Jaffray's results suggest that the iPhone and iPad brands remain strong with U.S. teenagers, with Apple undoubtedly planning for those users to become lifelong Apple customers as they become locked into the company's app and content ecosystem.