Carl Icahn Pushed for $150 Billion Stock Buyback at Dinner with Apple CEO Tim Cook [Update: Has $2 Billion Invested]
Activist investor Carl Icahn has just issued a Tweet sharing that he had a "cordial" dinner with Apple CEO Tim Cook last night where he pushed for an increased stock buyback of $150 billion. According to Icahn, the two will revisit the subject later this month.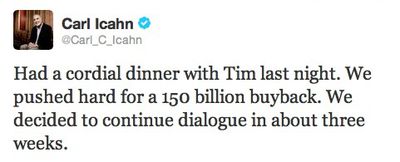 The stock buyback portion of Apple's capital return program was originally set at $10 billion when it was announced in March 2012, but in April of this year the company announced a significant increase to $60 billion as Apple has sought to take advantage of a drop in the company's stock price to repurchase shares at relatively low prices. Icahn believes that Apple's stock remains undervalued, and thus is pushing Apple to increase the buyback even further.
Icahn took a "large position" in Apple, said to be in the neighborhood of $2 billion, back in August and noted shortly after that he would be having dinner with Cook to discuss the company's buyback plans. That dinner meeting was held yesterday in New York City.
Update: Carl Icahn spoke with CNBC this afternoon, giving additional details about his dinner with Tim Cook and his increased position in Apple.
Via Time reporter Sam Gustin, Icahn said he believes Tim Cook is "doing a damn fine job", management "is not an issue", and that he doesn't "micromanage". He said he is "not going away" until Apple executives "hear a lot more from me."
Icahn also revealed that he purchased several hundred million dollars worth of shares on the recent dip in Apple's stock price and he now holds $2 billion worth of stock.