Investor Carl Icahn to Meet with Apple CEO Tim Cook on Monday, September 30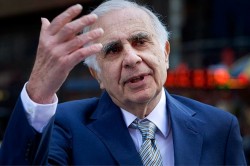 Activist investor Carl Icahn, who recently
purchased
around $1-2 billion in Apple stock, has a date for his
meeting with Apple CEO Tim Cook
to discuss the company's stock buyback plans and other issues,
according to CNBC
. The two will reportedly meet in New York City next Monday, September 30.
Activist investor Carl Icahn will meet with Apple CEO Tim Cook in New York City next week, where the billionaire may discuss the company's prospects, and the possibility of adding to his sizable stake in the technology giant.
Apple announced a
stock dividend and buyback program
in March 2012 as part of an effort to boost shareholder return as the company's cash and investment holdings have rapidly grown in recent years. Apple
increased and accelerated
the stock buyback program earlier this year, issuing debt to take advantage of a drop in the company's stock price.
Icahn believes that Apple should accelerate its buyback plans even further, arguing that it is a prudent move given the company's financial position and his belief that the company's stock remains undervalued.