iPhone 5s Orders Launch to 7-10 Day Estimates in Australia/China, 'October' in Hong Kong/Singapore
As we've been documenting in updates to our article about shortages of gold iPhone 5S models in Australia, shortages of all models of the device are rapidly coming apparent as Apple's online stores in the Asia-Pacific region are coming back online.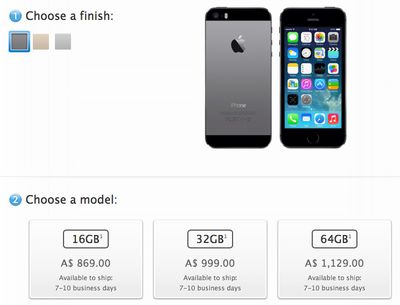 In both Australia and China, all models in all colors are showing shipping estimates of 7-10 business days at launch, with Hong Kong and Singapore seeing even longer estimates simply stating "October".
The extended shipping dates suggest that supplies are likely to be tight around the world, meaning that those looking to order through Apple's online stores will need to consider their plans if they hope to have a device in hand quickly. In-store stocks are also likely to be quite limited, with perhaps more customers now electing to camp out at their local stores once they've seen the delays they may encounter ordering online.