The American Customer Satisfaction Index (ACSI) has released its annual rankings for customer satisfaction in the category of personal computers, which include both traditional computers and tablets, with Apple's line of Macs as well as the iPad topping the survey's rankings for the tenth straight year. Apple's satisfaction rating of 87 is ranked above other competitors such as Hewlett-Packard and Dell, which finished with scores of 80 and 79, respectively. The satisfaction rating of each company in the survey is dependent on factors such as customer expectations, perceptions of quality, and perceptions of value.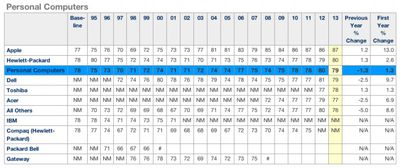 Apple maintains the strong lead it has held for a decade, inching up 1% to an ACSI score of 87 Still, Apple's position might be a bit more precarious in 2013. While iPhone sales are rising, shipments of Mac PCs declined and iPad sales are slowing, pointing to possible saturation in the tablet market. Nevertheless, even as Samsung and other manufacturers of Android-based devices make inroads, Apple continues to dominate in the U.S. market, with iPads accounting for about 80% of all tablet usage.
Early last month, the ACSI also released its annual rankings for smartphone satisfaction in the United States, which revealed that the iPhone 5 was topped by Samsung's Galaxy S3 in customer satisfaction.
As the new report notes, Mac sales have stagnated in recent quarters alongside significant weakness in the overall PC market, remaining flat in July with a 5% year over year drop expected for the September quarter. Apple is, however, set to release the newest version of its operating system, OS X Mavericks, in late October, with a refresh of the company's iPads and much of its Mac line expected to happen in the next few months.