iPhone 5s Inventory Said to Be 'Severely Constrained' at Launch
iPhone 5s inventories are said to be very limited at launch, according to reports from several different publications sourcing employees at Apple Retail Stores and cellular carriers.
One source told AllThingsD that an unnamed carrier will have "grotesquely unavailable inventory" and another said they were disappointed with the shipments of the phone from Apple. BGR likewise said 5s supply would be "severely constrained".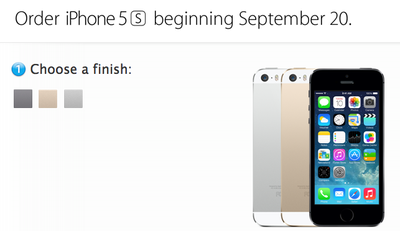 9to5Mac's Mark Gurman claims three of four units shipped to Apple Stores will be the new Space Gray color -- gold and silver options will be more difficult to come by -- while phones meant for AT&T's network will be more plentiful than those for Verizon. He also says 16GB and 32GB models will be in greater supply than 64GB units.
A survey from earlier this year showed that the 16GB and 32GB models were far more popular than the 64GB version, with nearly 90% of iPhones purchased being the lower two capacities.
Finally, Gurman says Apple will be updating its Apple Store iOS app to show the in-stock status of various iPhone models at their local Apple Retail Stores.