Survey Shows Older and Cheaper iPhones and iPads Remain Popular, MacBook Pro is Best-Selling Mac
In its latest report on Apple, Consumer Intelligence Research Partners (CIRP) surveyed a number of recent purchasers of Apple products to determine U.S. buyer's purchasing habits regarding preferred capacity and model of a variety of Apple products.
Among other things, the survey found that the iPhone 5 accounted for just 52% of iPhones purchased in June 2013 -- back in October, just after the iPhone 5 had launched, the new device commanded some 68% of iPhone purchases. In June, 30% of iPhone sales were from the 4S, while 18% were from the 4.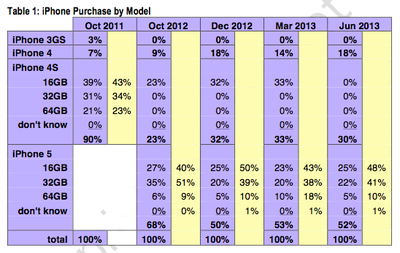 The iPhone 4 and 4S aren't the only older iOS devices to be seeing significant sales success. The iPad 2, which is particularly popular in educational and enterprise environments, accounted for 34% of total iPad sales in June. The Retina iPad and iPad mini each counted for a third of total sales.


The 16GB capacity iPad is by far the most popular model, with the 32GB, 64GB and 128GB models accounting for 28%, 11% and 2% of total sales respectively.


Finally, though the Mac Pro has not been significantly updated in several years, it still accounts for 5% of total Mac sales, according to the survey -- and is more popular than the Mac mini. The MacBook Pro makes up 70% of Apple's notebook sales, with more than half of those sales going to the Retina display-equipped models.


Apple does not break down sales by model, and though this data is from a survey and not company-provided, it gives some insight into the sales preferences of Apple's customers.