Sprint to Roll Out 'One Up' Frequent Device Upgrade Program on September 20
Following the introduction of early upgrade programs from AT&T, Verizon, and T-Mobile earlier this year, a leaked document from Sprint (via CNET) shows that the mobile carrier is planning to roll out "Sprint One Up", a program that allows its customers to upgrade their handsets and tablets at regular intervals. The program is reportedly set to launch on September 20, which is also the first day of availability for Apple's new iPhone 5s and lower-cost iPhone 5c.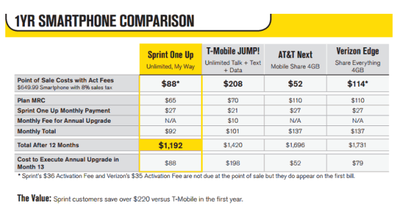 All of the carrier programs principally work the same, with a few nuanced differences. Sprint's One Up lets customers pick up a phone with no money down and pay for the device in 24 monthly installments. A phone that costs $649.99, for instance, will cost $27 a month (with the difference tacked on to the 24th payment). If a customer leaves the service early, that person is on the hook for the balance of the device cost, due the following month.
The program also states that customers can upgrade to a new phone by trading in the device after a year of service, with Sprint's Unlimited, My Way or All-In plan eligible for the program. One Up also provides a $15 discount on the service plan, which allows for an unlimited talk, text, and data plan that costs $65 a month at minimum.
Current customers who have been on contract for at least a year are also eligible for the program, and also must trade in their existing phones unless they are already eligible for a discounted upgrade. The program does not apply to Sprint prepaid customers and does not discontinue Sprint's other upgrade program, "Upgrade Now", which allows customers to upgrade for a set fee.