Apple Announces Colorful New iPhone 5c, Starting at $99 on Two-Year Contract
Apple today announced the new lower-priced iPhone 5c, replacing the iPhone 5 in Apple's phone lineup. The new device is available in five different colors -- green, yellow, blue, white, and pink -- in a polycarbonate design. The phone uses the same A6 processor and rear-facing camera as the iPhone 5. Apple posted a new product video, featuring Jony Ive, for the 5c.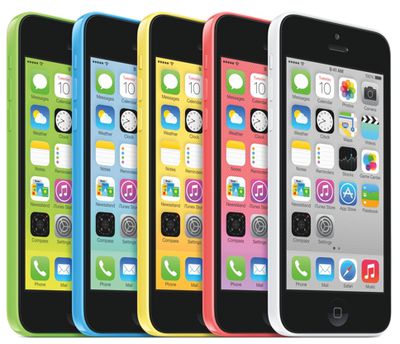 "iPhone 5c is everything iPhone 5 was and more, in an all-new design packed with great features," said Philip Schiller, Apple's senior vice president of Worldwide Marketing. "iPhone 5c is designed with a beautiful polycarbonate enclosure that looks and feels so solid in your hand."
The new phone includes some upgraded parts as well, including an improved front-facing FaceTime camera and support for more LTE bands.
The phone is made of what Apple calls a hard-coated polycarbonate, using a steel-reinforced interior that also serves as the antenna. The company also introduced a line of $29 cases that snap onto the back of iPhone 5c and come in pink, yellow, blue, green, white and black.
The iPhone 5c is available for preorder this Friday, September 13 for $99 in 16GB and 32GB for $199 with a two-year contract. It will go on sale Friday, September 20.