Photos of Alleged iPhone 5C Logic Board Surface, Appears Very Similar to iPhone 5S Board
With Apple set to introduce its iPhone 5S and iPhone 5C at next Tuesday's media event, part leaks are continuing to appear revealing information about the devices. The latest part to appear is alleged to be the logic board for the iPhone 5C, completely assembled but unfortunately with shielding in place that keeps most of the chips and other components hidden.
One set of photos was shared by C Technology, showing front and rear views of the part as well as a shot of nearly a dozen of the parts laid out on a table.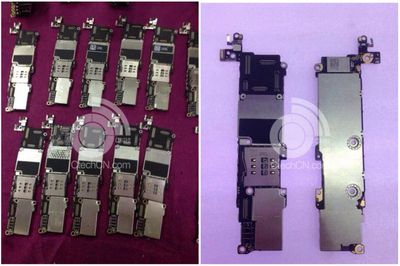 Click for larger
A second set was
posted
(registration required) to Chinese microblogging site Sina Weibo (
via Nowhereelse.fr
), again showing the front and rear of the board.

Click for larger
Perhaps most interestingly, the features that can be seen on this iPhone 5C logic board reveal it to be extremely similar to the iPhone 5S logic board seen months ago in
bare form
and in a
prototype device
.
Leaked shells for the iPhone 5S and 5C have shown identical layouts for screw holes used to mount the respective logic boards, but today's photos show that even the physical connectors and components on the board itself are laid out in the same positions and orientations, at least as far as can be discerned with the shielding in place.
The iPhone 5S is expected to carry more advanced hardware than the iPhone 5C, with the iPhone 5C having been said to essentially be an iPhone 5 wrapped in a new plastic shell. But if these images are indeed accurate, it appears that Apple has reworked those iPhone 5 components to fit onto a new basic logic board design that is shared between the two new iPhone models.