BlackBerry Messenger for the iPhone was submitted to the App Store two weeks ago, which means the launch could be coming at any time pending approval from Apple. The news was announced this afternoon by BlackBerry Social Media Manager Alex Kinsella.
BBM, which functions similarly to Apple's iMessage, was one of the first proprietary mobile messaging services and remains popular to this day with more than 60 million active monthly users.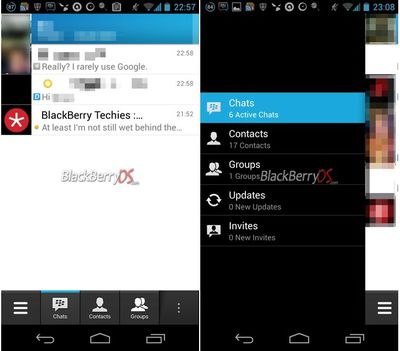 BlackBerry first announced the iOS version of BBM in May, and sent out beta invites to the service in early August.
Two weeks ago, BlackBerry posted a user guide for the app, detailing the how the service works, its available features, and how to create an account. The app was expected to be launched shortly after the guide was posted, but it appears that it is still under review.
It is not clear why BlackBerry Messenger is still stuck in the review process after two weeks, as Apple typically finishes app reviews within five business days.
BlackBerry will have a lot of competition in the messaging space on iOS. In addition to iMessage, there are a number of other third-party messaging services that have soared in popularity over the last couple of months, including LINE, Whatsapp and WeChat.