BlackBerry announced in May that it would bring its BlackBerry Messenger (BBM) platform to iOS and after sending out beta invites to the service in early August, the company has now posted (via TechCrunch) a user guide that suggests the app's launch may be imminent.
BBM, which functions similarly to Apple's iMessage, was one of the first proprietary mobile messaging services and remains popular to this day with more than 60 million monthly active users.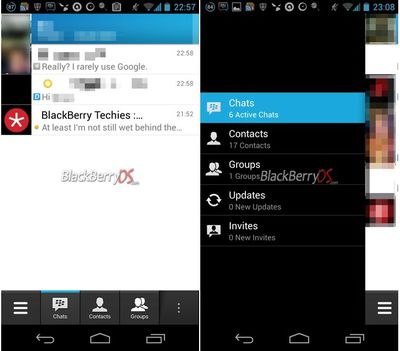 Leaked screenshot of the Android version of BBM
The BBM user guide details how the service works, the available features, and how to create an account. It also offers a rundown on icons and a troubleshooting section.
With BBM, you can chat and share in real-time with your BBM contacts and groups. For example, you can share pictures, see when someone has read your message or is typing a reply, and update your BBM status or picture. Share your news with multiple people using multiperson chats and group chats.

With BBM Groups, you can plan events, track to-do lists, share pictures, and chat with up to 30 people at the same time without needing to add them all as BBM contacts.
According to the user guide, the app will support profiles, barcode invites, multi-media chats, emoticons, and group chats. Like other messaging apps, it will function over both Wi-Fi and cellular connections.
While BlackBerry originally targeted a summer release for the app, the company has yet to narrow down its projected release timeline. With the debut of the beta earlier this month and the subsequent guide, it appears that the app is ready to launch.