BlackBerry Messenger Beta Starts Rolling Out for iOS and Android Devices
According to BlackBerryOS.com, the beta version of BlackBerry Messenger (BBM) has started rolling out in the Beta Zone for Android and iOS devices. The Beta Zone, which is similar to Apple's Developer Center, started sending out the invites to select registered users today, with more expected to follow in the coming days and weeks. BlackBerryOS.com has also leaked several screenshots of the Android version of the app, but screenshots of the iOS version do not yet appear to be available.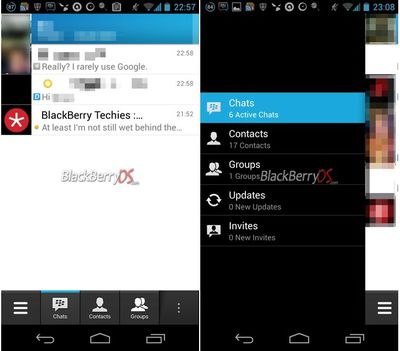 The beta will require iOS 6.0 or later, according to Vivek Bhardwaj, the head of the BlackBerry Software Portfolio who spoke to Trusted Reviews a couple of weeks ago. Announced in May for a summer release, BBM is expected to hit Google Play and the App Store sometime next month, although there has been no official date confirmation as of yet following an erroneous announcement from T-Moble UK having claimed a June 27 launch date.
BBM is the proprietary messaging solution among BlackBerry devices and requires the use of a "PIN" – an eight character hexadecimal identification number that is uniquely assigned to every device. Currently there is no information about how BlackBerry users will add iOS or Android devices to their contacts, though the most obvious solution would be through either a phone number or e-mail address.
This is the first time that BlackBerry software has been available on other smartphones and marks a radical shift in the management of the Canadian-based manufacturer. From 2012 onwards, BlackBerrys have gradually been dropping in popularity – the latest statistics show that BlackBerry OS worldwide accounted for just 3.7% of smartphone usage in July 2013, compared with 38.3% for Android, 24.8% for iOS and 14.4% for Nokia's S40 platform.