Apple is developing a 17-watt power adapter for an unknown product, reports AppleInsider. At 17 watts, the adapter uses slightly more power than the current iPad (12 watts) but significantly less than the MacBook Air (45 watts). It also uses more power than the iPhone or the Apple TV, which ship with 5-watt and 6-watt adapters, respectively.
People familiar with the matter say Apple just recently began the process of procuring low-cost components for the new 17-watt adapter. And while the exact nature of its parent product remains somewhat of an unknown, at least one person familiar with adapter's design believes existing evidence points to be a portable product which could launch within the next 12 months.

It's also said that the new 17-watt adapter is not intended as an upgrade to an existing Apple product line, such as the anticipated fifth-generation iPad. That device is instead expected to ship with the same 12-watt adapter.
Though a 17-watt adapter could presumably be used for any number of Apple products including the existing iPad, its minor increase in wattage could hint at a larger iPad. With a 5-watt adapter for the iPhone and a 12-watt adapter for the 9.7-inch iPad, 17 watts is at the right size to power a potential 13-inch iPad.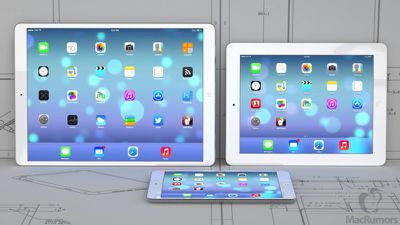 News of a larger "iPad Maxi" first
surfaced
in May, and was followed up by a
report
from
The Wall Street Journal
suggesting Apple and its suppliers were testing larger screens for both the iPad and the iPhone. The larger iPad reportedly measures slightly less than 13 inches diagonally.
The iPads in question were prototypes, however, and Apple produces and tests a wide range of products that never make it to market. It is unclear if the company will release a larger iPad to the public, but such an iPad would be similar in size to a MacBook Air.
There is no indication that Apple has plans to release a 13-inch iPad in the near future, but the company is gearing up to launch both a Retina iPad mini and a fifth-generation iPad with slimmer bevels and a thinner design later this year.