Various Apple Store locations across the United States, as well as major third-party Mac retailers such as Best Buy, are experiencing a diminishing stock of Apple's AirPort Express in recent days, reports AppleInsider. The shortages may be due to Apple beginning to slow shipments of the Wi-Fi base station ahead of an update, although it may also simply be a temporary blip in the product's availability.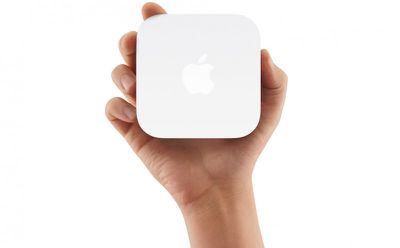 While not a clear indication that a new version is imminent, the stock-outs are notable as supply of the Express has been consistent since it was last refreshed over a year ago. The timing is also suspect given the first AirPort Express debuted in 2004, with Apple releasing two subsequent generations at four-year intervals. The last iteration featured a redesign and dual-band 802.11n compatibility.
The AirPort Express was updated last year with a design similar to the Apple TV set-top box as well as new features including simultaneous dual-band 802.11n connectivity for improved performance. Earlier this year, a new Broadcom Wi-Fi/Bluetooth card supporting the latest 802.11ac Wi-Fi standard surfaced and that standard has since been appearing in Apple's latest Macs and new versions of the AirPort Extreme and Time Capsule base stations introduced back in June. It seems likely that any update to the AirPort Express would bring similar support for 802.11ac Wi-Fi.
The current-generation AirPort Express sells for $99.