At today's Worldwide Developers Conference Keynote, Apple's Senior Vice President of Worldwide Marketing Phil Schiller announced a new AirPort Base Station and new AirPort Time Capsules, featuring sleek new designs and improved internals.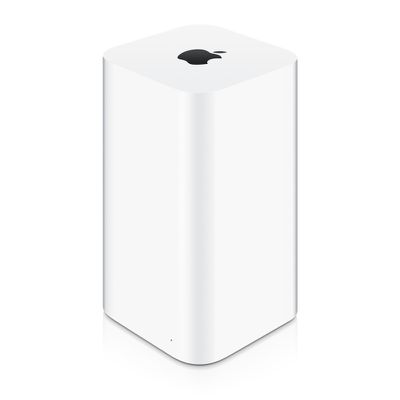 All of the devices feature 802.11ac WiFi, which allows for 40 percent faster data transmissions at the same distance as the previous models. They also feature beamforming, which is electronically steering antenna directions. All of the new products are available for purchase from the Apple Online Store today.
The AirPort Extreme Base Station is priced at $199.
The Time Capsules come in 2TB and 3TB variations and are priced at $299 and $399, respectively.
Apple has released new firmware updates for both the Base Station and the Time Capsule.
This update is for AirPort Extreme and AirPort Time Capsule base stations with 802.11ac. It resolves a rare issue that may cause the hard drive in AirPort Time Capsule or a hard drive connected via USB to become unresponsive.
Apple has also released an update for the AirPort Utility App for Mac and iOS.
Use AirPort Utility to set up and manage your 802.11n and 802.11ac AirPort base stations, including AirPort Express, Extreme, and Time Capsule. AirPort Utility 6.3 allows you to configure and manage the new AirPort Extreme and AirPort Time Capsule with 802.11ac Wi-Fi, and includes enhanced remote management capabilities.
AirPort Utility for iOS can be downloaded from the App Store for free. [Direct Link]
AirPort Utility for Mac can be downloaded from Apple's software update website.