Apple's September 10 iPhone Media Event Said to Also Include New iPads [Updated]
Buried in an article about Apple's upcoming Tokyo retail store, Bloomberg briefly mentions that Apple's September 10 media event will see the introduction of not only new iPhone models, but also new iPads.
The Cupertino, California-based company plans to introduce new versions of its phone and tablet at a Sept. 10 event, a person familiar with the matter has said, and the company promised "several more game changers" in the product pipeline as it tries to fend off Samsung Electronics Co. and Chinese makers selling cheaper handsets.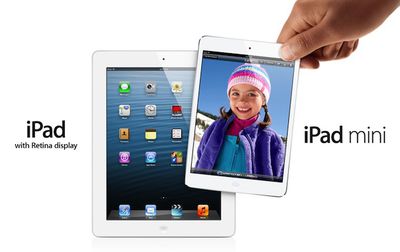 The September 10 date for Apple's iPhone media event was reported by AllThingsD earlier this month and all but confirmed over the following few days by a number of other sources, but the event had been thought to be focused solely on the iPhone and iOS 7.
Given the casual nature with which Bloomberg mentions that new iPads are expected at the event, it is possible that it is an error, as rumors have suggested that the new iPads would not appear until closer to the end of the year. Apple has even been reported to perhaps be pushing back the release of iOS 7 for iPad by a few weeks relative to the iPhone version of the software, with the new iPads and their version of iOS 7 appearing at a later media event.
Update: Bloomberg made a similar quiet mention of both iPhones and iPads appearing at the September 10 event in an article last week.
Update 2: Bloomberg has now updated its article to remove mention of new tablets at Apple's September 10 event.
Update 3: The Loop's Jim Dalrymple has confirmed that there will be no iPads introduced at Apple's September 10 iPhone media event.