Apple to Open New Retail Store in Tokyo's Omotesando District in March 2014
An Apple retail store is set to open within Tokyo's famed Omotesandō district in March 2014, reports Bloomberg. The store will be Apple's first new one to open in the city in nine years and the first anywhere in Japan since the Sapporo store opened in June 2006. The new store will reportedly span three floors, with the first floor above ground and two additional underground floors, for a total area of 1868 square meters (over 20,000 square feet). Job listings for the store have also begun appearing on Apple's Japanese retail web site.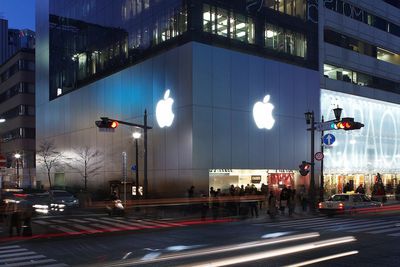 Apple Retail Store in Tokyo's Ginza district
The land costs about 16 billion yen ($164 million) and a completed store with Apple as tenant would value the property at around 25 billion yen, said Seth Sulkin, a representative director at Tokyo-based real estate and asset manager Pacifica Capital KK. Sulkin was Apple's real estate adviser for all seven of the company's previous stores in Japan.

"Apple wants the best real estate they can get," said Sulkin. "They are particular about size and shape. If they have to wait to get the real estate, they would."
The store plans come as Apple attempts to make a bigger push in the Japanese market, with Japan's biggest carrier, NTT DoCoMo, stating that it has "compelling reasons" to reach a long-elusive iPhone deal with Apple in Japan. The iPhone 5S and lower-cost iPhone 5C are expected to launch in Japan in September 20 along with the first wave of launches in select countries, and both next-generation iPhones will reportedly be unveiled on September 10.