Tim Cook's Leadership Style Profiled After Two Years as Apple CEO
With his two-year anniversary of being named Apple CEO coming on Saturday, Tim Cook is the subject of a new profile by Reuters highlighting his leadership style and some of the challenges he continues to face following in the footsteps of Steve Jobs. The report notes that Cook has been overseeing Apple's transition into a "mature corporate behemoth" and that he has successfully managed the company's high-profile iPhone and iPad lines, but that he has yet to prove he can deliver a new breakthrough product category.
Some worry that Cook's changes to the culture have doused the fire - and perhaps the fear - that drove employees to try to achieve the impossible.
The intensely private Cook has been profiled in the past, and his workaholic nature, thoughtful demeanor and "no-nonsense, methodical style" are well-known, but the new profile offers a few more tidbits about his personality and how Apple runs under his command.
People who know him well paint a portrait of a thoughtful, data-driven executive who knows how to listen and who can be charming and funny in small group settings. [...]

Still, he has a tough side. In meetings, Cook is so calm as to be nearly unreadable, sitting silently with hands clasped in front of himself. Any change in the constant rocking of his chair is one sign subordinates look for: when he simply listens, they're heartened if there is no change in the pace of his rocking.

"He could skewer you with a sentence," the person said. "He would say something along the lines of 'I don't think that's good enough' and that would be the end of it and you would just want to crawl into a hole and die."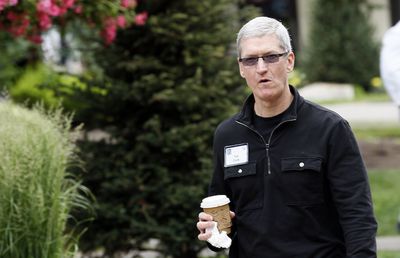 The report notes that Cook is generally very decisive, as evidenced by the issues Apple experienced with its new Maps app in iOS 6. According to sources, Cook responded quickly to that controversy with an
open letter to customers
and by bypassing then-iOS chief Scott Forstall to put software and services head Eddy Cue in charge of fixing the problems.
There has, however, been some grumbling by employees about a shift in the Apple culture under Cook, with Reuters quoting a morale survey distributed to members of the hardware engineering group earlier this year by senior executive Dan Riccio.
Overall, the verdict on Cook's tenure so far is portrayed in the profile as still in flux, with his challenging role seeing him making some positive changes for the company but still dealing with issues related to employee happiness and retention. And amid slowing revenue growth as the iPhone and iPad mature, customers and investors are eagerly anticipating the introduction of Apple's next major product line, whether it be smart watches, televisions, or something else.