Code in iOS 7 Suggests Upcoming A7 iPhone Chip Will Include Samsung Components
According to developer Nick Frey (via 9to5Mac) code within iOS 7 hints at a new upgraded processor, likely the A7 processor expected to be included with the iPhone 5S. The code includes a reference to an s5L8960x application processor, which is a higher iteration than the s518950x and the s518955x numeration found on the A6 and A6X processors used in the iPhone 5 and the fourth generation iPad.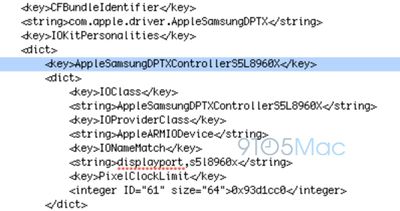 As noted by 9to5Mac, it appears that the upcoming system-on-a-chip will include Samsung components.
Interestingly, it appears that Apple will again work with Samsung for this new chip. The main system-on-a-chip will include some Samsung components- at least to power the display, according to analysis of the above code by a person familiar with Apple's chip design process.

This source also says that over the past couple of years, Apple has hit roadblocks (in relation to processing speed) with both the upcoming A7 and A8 chip, but it appears those that issues have been resolved.
While the appearance of next generation Samsung components in iOS 7 confirms reports that Apple will stick with Samsung for its 2013 product line rather than switching exclusively to TSMC, it remains unclear whether or not TSMC is also involved in the chip production. A March rumor suggested that Apple might use both Samsung and TSMC to produce its 2013 chips, and a prototype iPhone 5S revealed a K1A0062 identifier on the main A7 chip, suggesting that it could potentially be manufactured by TSMC.
Apple has been reportedly aiming to reduce its reliance on Samsung, and in June, the company signed a three year deal with TSMC that will see TSMC producing Apple's A8 chips and potentially its A9/A9X chips as well. Apple did, however, backtrack and sign a second deal with Samsung that will see Samsung producing 14-nm chips for the company beginning in 2015, indicating that Apple plans to continue working with both companies.