Intel to Supply Apple with Special High-End Haswell Processors for MacBook Pro
According to SemiAccurate, Intel will provide Apple with an ultra-high performance version of its Haswell for Apple's upcoming MacBook Pros. The report claims that the chips will include a special version of Intel's highest-end GT3e (Iris Pro 5200) integrated graphics.
Apple has requested a special top bin cream-of-the-crop GT3e selection from Intel, with "as much GPU power as possible." With the top chips going solely to Apple, that leaves the slightly less desirable remains for Intel's other customers.
It was widely assumed that Apple would release its next generation Haswell-based MacBook Pros at WWDC alongside the Haswell MacBook Airs, but that did not happen. Both the 13-inch and the 15-inch MacBook Pros have since shown up in benchmark results, however, suggesting that a release is coming soon.
The benchmarked 15-inch MacBook Pro revealed a Core i7–4950HQ chip running at 2.4 GHz, along with Iris Pro 5200 integrated graphics, which, as noted, are the best that Intel has to offer. Intel's promotional materials have suggested that the Iris offers 2–2.5x the performance power as the i7–3840QM chip with HD Graphics 4000 in the current high-end Retina MacBook Pro, but the new Retina MacBook Pros could see even greater performance boosts.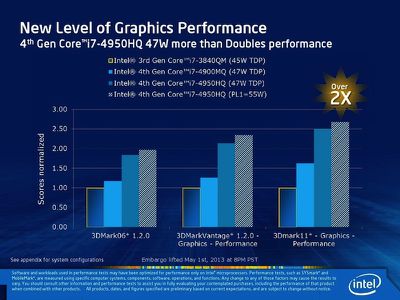 Earlier this week, KGI Securities analyst Ming-Chi Kuo suggested that the updated MacBook Pros will launch in mid-September. It is unclear if Apple will refresh both the Retina MacBook Pros and the standard MacBook Pros, but many believe that Apple is planning to phase out the non-Retina varieties.