Intel Shares Details on New 'Iris' Integrated Graphics for Haswell Chips
As noted by The Verge, Intel late yesterday released details on its next-generation integrated graphics offerings arriving as part of the company's Haswell processor lineup. The new graphics options consist of three primary levels: an Intel HD Graphics 5000 to be packaged as part of 15-watt chips destined for ultrabooks, an Intel "Iris" Graphics 5100 to be paired with 28-watt mid-range chips targeted at larger ultrabooks, and an Intel "Iris Pro" Graphics 5200 for the highest-power chips.
The company claims its new Intel "Iris" Graphics, embedded in upcoming Haswell CPUs, can offer double or triple the performance of the Intel HD Graphics 4000 that comes with current Ivy Bridge processors. That's significant: typically each generation offers only a double-digit percentage boost.

That doesn't mean every new Haswell processor will come with quite that level of graphics performance, though.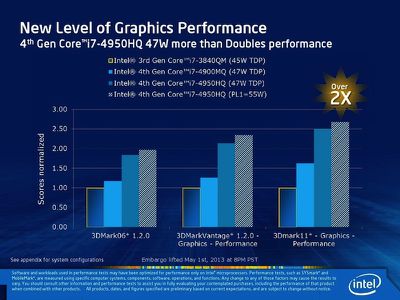 AnandTech has more, highlighting how ultrabooks, which would include Apple's MacBook Air, will see a lesser but still significant boost in graphics performance with Intel HD Graphics 5000.
Although Ultrabooks (now 15W) won't get full blown Iris performance, they should still see a healthy increase in GPU performance compared to where they are today (50% improvement in 3DMark) at a lower TDP. The move to a full speed GT3 part (Iris) should more than double performance in 3DMark.


Apple is expected to embrace Intel's forthcoming Haswell chips in its next-generation notebook lineup, which may be introduced as soon as next month's Worldwide Developers Conference.