Next-Generation 15-Inch MacBook Pro Shows Up in Benchmarks
Last month, a new entry in the results database for popular benchmarking tool Geekbench 2 appeared to reveal Apple's next-generation 13-inch MacBook Pro. Many observers had expected the update to come at Apple's Worldwide Developers Conference last month, but Apple has yet to release the new machines.
A new Geekbench result posted earlier today now appears to reveal Apple's next-generation 15-inch MacBook Pro, carrying a code name of "AAPLJ45,1". As with the 13-inch model, it is not clear whether this machine is a Retina or non-Retina model, although Apple has been rumored to be leaving the non-Retina models without any further updates as it seeks to phase out the line in favor of an all-Retina lineup.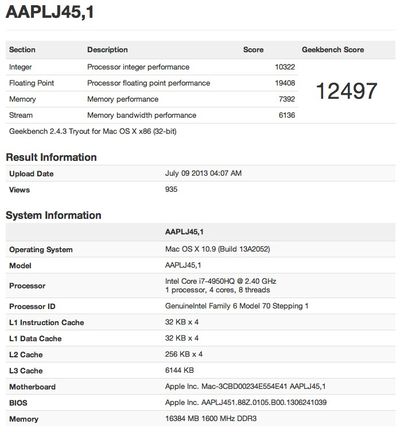 The benchmarked 15-inch MacBook Pro, which carries one of Intel's new Haswell processors and 16 GB of RAM, received a Geekbench score of 12497, roughly in line with the current generation of the machine. But as was seen with the MacBook Air released last month, Haswell's biggest benefit comes in efficiency, with Apple being able to boost the battery life on those machines to up to 12 hours.
The chip included in the benchmarked machine is a Core i7-4950HQ running at 2.4 GHz and offering Intel's new high-end Iris Pro 5200 integrated graphics. Intel's promotional materials for Iris previously showed graphics performance gains of 2-2.5x for this i7-4950Q with Iris 5200 compared to the i7-3840QM with HD Graphics 4000 found in the current stock high-end Retina MacBook Pro.
Apple's 15-inch MacBook Pro has, however, historically also included a dedicated graphics chip for improved performance, although it is unclear exactly what Apple's plans are in this regard for future generations. With Intel's integrated graphics seeing significant increases in performance, it is possible that Apple could, at least on some models, forego a dedicated graphics chip in order to push battery life even higher.
As with the 13-inch model benchmarked earlier, this 15-inch model is running a custom build of OS X Mavericks, in this case 13A2052. The machine is also running a Boot ROM dated June 24.
Apple's 15-inch MacBook Pro currently offers 7 hours of battery life, and while Apple may not be able to duplicate the 80% increase in battery life seen with the MacBook Air's switch to Haswell due to other power-hungry components such as the MacBook Pro's Retina display, the company may still be able to offer substantial battery life improvements in its new machines.
Update 8:53 AM: Primate Labs' John Poole tells MacRumors that Geekbench does collect GPU information, and that this machine does NOT appear to have a discrete GPU in addition to the integrated Iris 5200 graphics from Intel. Poole notes that it is possible that Geekbench could have failed to pick up the presence of a discrete GPU, as Primate Labs is still working out issue with that feature of the software, but that all testing so far has indicated that Geekbench should see the discrete GPU if it is present, even if it has been turned off for the benchmarking run.