Sketchy Report Claims iPhone 5S Delayed Until Late 2013 Over Switch to 4.3-Inch Display
Bloomberg highlights a new report from Taiwan's Commercial Times claiming that Apple may be pushing back the launch of the iPhone 5S to the end of this year in order to increase the size of the device's display from the current 4 inches to 4.3 inches.
Apple Inc. (AAPL) may delay the introduction of the iPhone 5S until the end of the year after the design was changed to feature a bigger 4.3-inch retina display screen, the Commercial Times reported.

The company previously scheduled the release for September or October, the Taiwanese newspaper reported, citing unidentified people in the semiconductor industry. Takashi Takebayashi, a spokesman for Apple in Tokyo, wasn't immediately available to comment to Bloomberg News.
The claim is highly unlikely to be true, as Apple undoubtedly finalized the designed of the iPhone 5S months ago and the company will reportedly begin mass production later this month. Regardless, the fact that the report was picked up by Bloomberg is giving it wide visibility.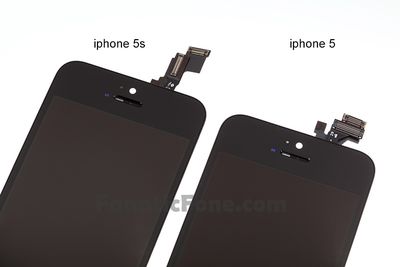 A number of reports have also indicated that the iPhone 5S will look largely identical to the iPhone 5, as seen in a prototype device manufactured last December. Photos of display assemblies claimed to be for the iPhone 5S have also surfaced, with those parts appearing nearly identical to the corresponding iPhone 5 parts with the exception of a change in orientation of the flex cable connectors that is compatible with the logic board layout from the prototype iPhone 5S.