iPhone 5S Display Assembly Surfaces, Appears to Fit Leaked Logic Board
Earlier today, we noted that photos of what was claimed to be the bare logic board of the iPhone 5S had surfaced, showing some changes to the board's layout compared to the iPhone 5 and perhaps even a slight narrowing of the board itself.
Several repair firms, including iHeart Repair, have shared with MacRumors a new set of images from a supplier showing the display assembly of the iPhone 5S. While the low-resolution images do not immediately reveal any significant changes to the technology behind the device's display, there is one item of interest supporting the claim that the logic board photos from earlier today are genuine.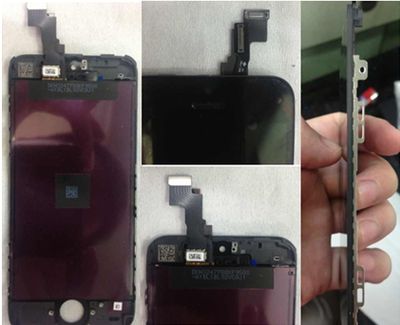 iPhone 5S display assembly
The iPhone 5 and 5S display assemblies each contain a pair of connectors on flex cables at the top of the part, supporting the display itself and the digitizer for registering touch input. On the
iPhone 5 display assembly
, both flex cable connectors are oriented horizontally and correspond to horizontal connectors on the device's logic board.

iPhone 5S logic board (left) vs. iPhone 5 logic board (right)
Display/digitizer connectors boxed in red
On this iPhone 5S part, one connector is oriented vertically and the other horizontally. This corresponds to the logic board seen in the photos earlier today, with a vertical connector near the top inside edge of the board and a horizontal one along the top edge.
Apple's iPhone 5S is expected to appear largely identical to the iPhone 5 from the exterior, but Apple typically makes significant internal changes in its new models even when using similar casing parts. It appears that the iPhone 5S, rumored for release around September of this year, will be no different in that regard, although many specific details on the internals of the device have yet to be revealed given that the logic board leaked earlier today does not contain any chips or other components.
Update: Fanatic Fone has posted another set of comparison photos (via ETrade Supply) showing the display assemblies in much higher quality.