Apple-Liquidmetal Collaboration Awarded Patent on Process for Mass Production of Amorphous Metals
Back in 2010, Apple signed an agreement with Caltech spinoff Liquidmetal Technologies, giving Apple exclusive access to the firm's unique metal alloys for consumer electronics applications. Liquidmetal's "amorphous metal alloys", sometimes referred to as "metallic glass" due to their non-crystalline molecular structures, offer several advantages over many other metals, including superior strength and durability. Apple had quietly tested Liquidmetal by using it in the SIM card eject tool for the iPhone 3G, but the material has yet to make any additional appearances in Apple's products.
The agreement between Apple and Liquidmetal funneled the covered intellectual property through a subsidiary known as Crucible Intellectual Property, LLC, and Liquidmetal is required to submit all of its newly developed intellectual property to that subsidiary through at least February 2014.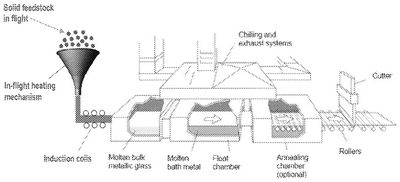 As pointed out by MacDailyNews, the U.S. Patent and Trademark Office yesterday issued a patent assigned to Crucible covering processes for mass producing thin sheets of amorphous metal alloys, suggesting that Apple and Liquidmetal are indeed making progress with the material. Of the five inventors listed on the patent, which was filed in May 2012, two are Apple product design engineers and three are engineers at Liquidmetal Technologies.
A conventional method for making a BMG [bulk metallic glass] sheet requires casting a amorphous metal alloy at or above the melting temperature of the amorphous metal alloy, freezing the molten amorphous metal alloy in a sheet mold to form a sheet, and then using a cutting tool to remove the gate portion of the cast sheet and shape the cast sheet into the desired final geometry. However, casting requires melting and cooling of the amorphous metal alloy in a sheet mold, and this can cause uncontrolled amount of amorphicity in the BMG sheet. Furthermore, the post-processing cost for removing the gate and runner overflow and shaping the cast sheet into the desired final sheet geometry can be quite high. Therefore, new methods for making BMG sheets that overcome the above mentioned limitations of the casting process are desirable. [...]

A proposed solution according to embodiments herein for the manufacture of bulk-solidifying amorphous sheets is to use a float glass process and/or a conveyor belt-type process.
The patent describes how molten BMG could be continuously poured onto a shallow bath of molten tin, where it would flow to form a sheet. The thickness of the sheets would be controlled by the speed at which cooling BMG is removed from the tin bath. The patent specifically claims that such a float plant could operate continuously for 10-15 years, producing approximately 6,000 kilometers of BMG per year in thicknesses ranging from 0.1 mm to 25 mm and widths up to 3 meters.
Rumors of Liquidmetal's alloys being used for Apple's iPhone have surfaced a number of times, but last year Liquidmetal's Atakan Peker noted that Apple was unlikely to use the alloys as major design materials for at least 2-4 years due to the production scale needed for such parts as MacBook casings. With yesterday's patent, however, it does appear that Apple and Liquidmetal may have developed processes to overcome that hurdle.