Apple Unlikely to Use Liquidmetal Alloys as Major Design Material for Several Years
With many hoping that Apple will undertake a significant redesign effort for the next-generation iPhone, scattered claims have fueled speculation that Apple might base the design on amorphous metal alloys from Liquidmetal Technologies. Apple acquired exclusive rights to Liquidmetal's technologies for use in consumer electronics back in 2010, but so far as used the metal only in the iPhone 3G SIM removal tool.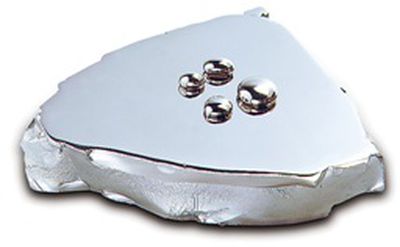 Atakan Peker, one of the inventors of Liquidmetal alloys, reports in a new interview with Business Insider that Apple is unlikely to use the alloys as a major component for at least two to four years. The company may find uses for Liquidmetal alloys in minor capacities before that time, as it did with the SIM removal tool, but mass production on the scale needed for full device casings is still some time off.
Q: I've heard rumors that future MacBooks from Apple could use Liquidmetal casing, what would that be like? Is it likely to happen?

A: Given the size of MacBook and scale of Apple products, I think it's unlikely that Liquidmetal casing will be used in MacBooks in the near term. It's more likely in the form of small component such as a hinge or bracket. A MacBook casing, such as a unibody, will take two to four more years to implement.
While Peker does not have direct knowledge of Apple's plans for Liquidmetal alloys, he does expect that the company will seek to make a major impact with it and to use it in a breakthrough product down the road. In Peker's view, Apple will likely take advantage of the alloys' strength and durability, as well as the ease with which they can be cast into complex shapes, to bring a unique product to the market.