Apple Acquires Rights to Liquidmetal Technologies' Advanced Metal Alloys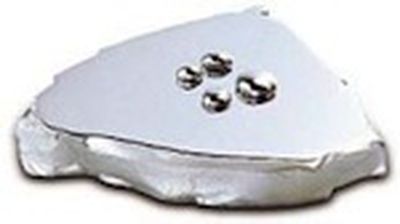 The Baltimore Sun reports that Apple has signed an exclusive agreement with California-based company Liquidmetal Technologies for the firm's advanced "amorphous" metal alloys. The news comes as part of a filing made by Liquidmetal with the U.S. Securities and Exchange Commission, in which the company reveals that Apple has obtained the right to use essentially all of its intellectual property in the consumer electronics field while Liquidmetal retains usage rights in other fields.
On August 5, 2010, Liquidmetal Technologies, Inc., a Delaware corporation ("Liquidmetal"), entered into a Master Transaction Agreement with Apple Inc., a California corporation ("Apple"), pursuant to which (i) Liquidmetal contributed substantially all of its intellectual property assets to a newly organized special-purpose, wholly-owned subsidiary (the "IP Company"), (ii) the IP Company granted to Apple a perpetual, worldwide, fully-paid, exclusive license to commercialize such intellectual property in the field of consumer electronic products in exchange for a license fee, and (iii) the IP Company granted back to Liquidmetal a perpetual, worldwide, fully-paid, exclusive license to commercialize such intellectual property in all other fields of use (together with all ancillary agreements, the "Master Transaction Agreement").
According to Liquidmetal's description of its technology, the company has developed new metal alloys exhibiting an "amorphous" molecular structure differing from the crystalline structures of traditional metals.
This amorphous atomic structure leads to a unique set of characteristic properties for the family of Liquidmetal alloys.
These characteristic properties are:
- High Yield Strength
- High Hardness
- Superior Strength/Weight Ratio
- Superior Elastic Limit
- High Corrosion Resistance
- High Wear-Resistance
- Unique Acoustical Properties
The company also points to the advantages of using Liquidmetal alloys in consumer electronics, citing its ability to deliver stronger and harder device casings while also offering thinner designs of excellent durability and corrosion resistance. The relatively low melting temperature and other characteristics of Liquidmetal alloys also permit them to be easily cast into a variety of forms while retaining their strength and durability.
It is unknown exactly what Apple plans to do with Liquidmetal's technology, but Apple's focus on industrial design with extensive use of metal in its device casings suggests a number of opportunities for the technology to make its way into the company's products.