Possible Photo of Lower-Cost Plastic iPhone Rear Shells Shows New Blue Color
This past weekend, Nowhereelse.fr shared photos of what could be the rear shell of Apple's rumored low-cost plastic iPhone in the colors green, red and yellow. While the site still acknowledges that the shells could be Chinese copies, certain features are still consistent with previous leaks and claims. Now the site shares [Google translation] a new photo that includes a blue rear plastic shell.
In mid-June, Reuters ran a report that stated that the low-cost iPhone would come in multiple bright colors, with Mac Otakara claiming that one of the colors would be blue. And while we have seen the possible shells for the green, red, yellow and white plastic iPhones we had not seen the blue one until now.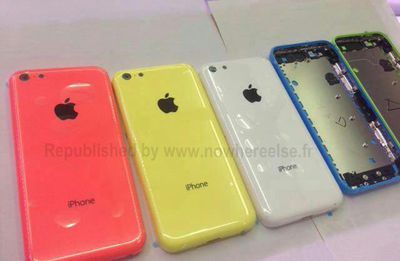 While the photo does not show the full exterior of the blue rear shell, it does show enough of the sides and the inside of the rear shell to imagine what a blue plastic iPhone could look like.
The blue shell is pictured alongside red, yellow, and green ones seen over the weekend, with a white shell also included. The white shell appears very similar to one leaked through a different source back in April.
The lower-cost plastic iPhone is likely to launch later this year in either September or October, presumably alongside Apple's flagship iPhone 5S. The plastic iPhone will offer consumers a more affordable iPhone choice, especially in markets where carrier subsidies are rare.
Yesterday, MacRumors published high-resolution mockups based on the previously leaked rear shell photos and other information, offering a look at the complete device's potential size, shape and texture.