A MacRumors reader has sent in photos depicting a new Apple Store that is being built at Stonebridge at Potomac Town Center in Woodbridge, Virginia. The store, which is located next to a Starbucks, will be housed in a 6,878 sq. ft space.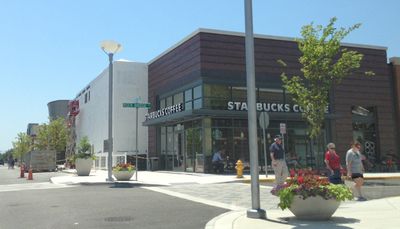 As the Potomac Town Center is still being constructed and populated, it is unclear which retail outlets will occupy the spaces next to the Apple Store, aside from the aforementioned Starbucks.
The outdoor center does, however, boast more than 20 stores and a number of eateries, along with 308 apartments and a large food market. A photo gallery and interactive map of the center are available, showing the location of the Apple Store (space #603) in more detail. The Stonebridge Apple Store will be the eighth retail location opened in Virginia.


While there no expected opening date targeted, our tipster believes the store could open in August. At the current point in time, the store is still covered and under heavy construction.


In other Apple Store news, storms in Seattle, Washington caused flooding in the Apple Store located at the Bellevue Square Mall. Photos retweeted by ifoAppleStore depict large amounts of water covering the floor of the location, though the electronics seem largely unaffected. The Bellevue flooding was cleaned up and the Apple Store is open for business today.