Apple Wins Prestigious Advertising Award for iPad Mini Magazine Campaign
Apple and TBWA Media Arts Lab have won a Grand Prix for Press award at the Cannes Lion International Festival of Creativity, one of the most prestigious awards in advertising.
The award is for the iPad mini campaign where Apple put actual covers of magazines on a life-size mockup of the mini to show how magazines could be read on the device. The ads ran on the back of the magazine from which they took their cover. A number of publications received the treatment.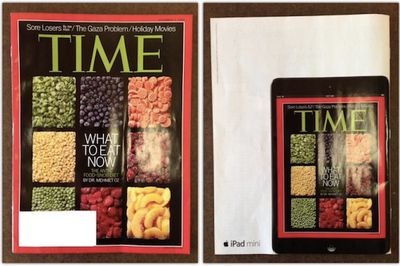 AdAge reports that Apple won largely because, according to category judge Marcello Serpa, "we were looking at a piece that makes print, the category itself, a hero."
Apple's iPad Mini campaign by TBWA Media Arts Lab won the Grand Prix in press, a category that the tablet once seemed designed to kill but now is offering what jury president Marcello Serpa described as redemption by enabling readership of print products.

[…]

Why it won: "It has a kind of guerrilla feeling," Mr. Serpa said. "It's a product that goes inside the media and says I'm going to kill you, [then] I'm going to save you. Let's embrace. It's redemption."