Apple to Offer Live Video Stream of Today's Media Event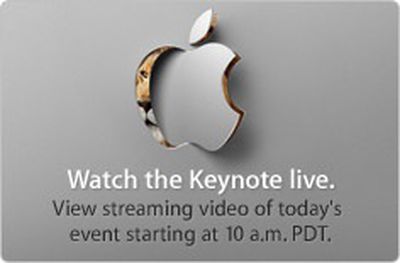 Following Apple's live video stream of its September media event to introduce new iPods, iTunes 10, and a revamped Apple TV, many observers have been disappointed that the company does not appear to be offering a similar feed of today's "Back to the Mac" event.
That may be changing at the last minute, however, as several European outlets are reporting that they have received word from their local Apple representatives that the event will in fact be streamed live.
- setteB.IT (Italy)
- MacLife.de (Germany)
- MacWorld Sweden
We have yet to hear similar word from U.S.-based outlets, and Apple has not yet posted any information on its site regarding the video stream.
Update: Gizmodo is confirming a similar alert from Apple's UK media relations representatives.
Update 2: Fortune now has confirmation from Apple in the U.S.
As with the previous event, Apple is using its HTTP Live Streaming technology, limiting the platforms on which the feed will be available.
Apple will broadcast its October 20 event online using Apple's industry-leading HTTP Live Streaming, which is based on open standards. Viewing requires either a Mac running Safari on Mac OS X version 10.6 Snow Leopard, an iPhone or iPod touch running iOS 3.0 or higher, or an iPad. The live broadcast will begin at 10:00 a.m. PDT on October 20, 2010 at www.apple.com.