Apple Releases Economic Impact Report on 'Spaceship Campus'
Apple today released a 30+ page report [PDF] from real estate consultancy Keyser Marston Associates examining the direct and indirect financial impact of Apple on the City of Cupertino and Santa Clara County. The document is part of the building process for the company's new 'Apple Campus 2' -- the Spaceship -- planned for opening in 2016.
As the document is aimed at the municipal governments in the area, it is heavy on tax revenue and job numbers, but there are a few bits of information that are interesting to Apple watchers.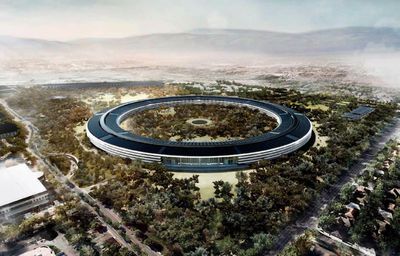 - Phase 1 of the the Apple Campus 2 building will accommodate some 13,000 employees across 2.8 million square feet of space in the main building. Other buildings on site will include an auditorium, fitness center, parking structures, buildings to house research and development and a central plant, for a total of 3.42 million square feet of new building space.
Phase 2 will add 300,000 more square feet of space, adding room for 1,200 more employees -- however this phase has been delayed indefinitely for cost-saving reasons.
- The analysis uses a conservative hiring growth rate of 10% per year, estimating that 7,400 employees will be hired at Apple's Cupertino headquarters between June 2013 and the opening of the new campus in 2016. This would tally a total employee count at 23,400, though over the past 5 years, Apple has seen an annual hiring growth rate of 18%.
- Apple's 16,000 current Cupertino employees account for 40 percent of the city's job base, making Apple Cupertino's largest single employer.
- Apple will pay $9.2 million in tax revenue directly to Cupertino in 2013, approximately 18% of the city's annual general fund budget. The consultants estimate that Apple will generate a net fiscal surplus of $8 million to the city this year, with that expected to grow to $11 million when the new campus is finished. This means Apple will pay millions of dollars more to the city than it uses in services.
- The construction of the new campus will generate 9,200 full-time jobs in the county over the three-year construction period, and will generate one-time revenues to the City of Cupertino in the form of construction taxes and fees totaling more than $38 million. The company has agreed to direct its contractors to purchase all construction materials from within the city, ensuring that Cupertino collects millions of dollars in sales taxes as a result.
- The report touts $66 million in public improvements to be built around the campus, including bicycle and pedestrian facilities, park land, and a voluntary $2.5 million contribution to Cupertino's affordable housing fund.
The full report, available from Apple's public relations page [PDF], includes dozens of pages of charts and tables to support the assertions. The new Spaceship Campus is not expected to have any significant opposition and has already received broad approval from the city.