iOS 7 May Include AirDrop Wireless File Sharing Capabilities
According to 9to5Mac, Apple is internally testing versions of iOS 7 that include AirDrop drag-and-drop file sharing capabilities.
First introduced with OS X Lion, AirDrop is a Finder function that allows Mac users to share files with other Mac users without the need for a Wi-Fi network or storage device. AirDrop for iOS is said to work in the same way, allowing files to be quickly shared between two different users.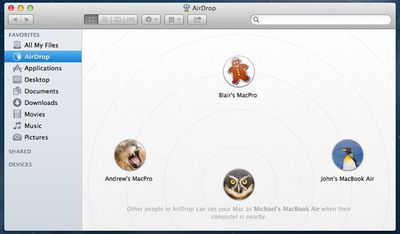 AirDrop for OS X
Sources say that the AirDrop functionality is currently integrated into the standard iOS share menu. AirDrop will work between two iOS devices and potentially between an iOS device and a Mac. The feature will make it easier than ever to transfer, for example, a photograph or document from one person's iPhone to another person's iPad.

While iCloud synchronization works well for sharing photos and documents between two iOS devices owned by the same person, the AirDrop feature will allow seamless individual file exchanges between iOS devices belonging to different people.
Along with AirDrop file sharing, iOS 7 is also expected to feature a major redesign and enhanced social network integration, which includes support for both Flickr and Vimeo. As noted by 9to5Mac, beta features that are in testing, like AirDrop, may or may not make it into the final version of the operating system.
iOS 7 will debut at the keynote of Apple's annual Worldwide Developers Conference, which is scheduled to take place on June 10.