Smart TV Adoption Growing Rapidly, Market Ripe for Apple iTV
According to a new report from media research firm TDG (via GigaOM) 14% of households with broadband internet owned an Apple TV, Roku box, or similar streaming platform during a study in 2012.
While that sounds like an impressive number, Smart TVs have been slowly taking over the connected TV market. 25% of households owned a smart TV that comes equipped with apps, such as those offered by manufacturers like Samsung and LG.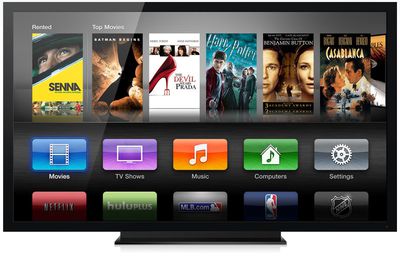 Smart TV adoption grew from 12% in 2011 to 25% in 2012, while connected set top box adoption grew just two percentage points year over year. While not all Smart TV owners use the "smart" capabilities, 69% of users surveyed connected their Smart TVs to the Internet, indicating that roughly two thirds of Smart TV owners take advantage of the TV's functionality.
With Smart TVs positioned as a rapidly growing market, it is unsurprising that rumors of an Apple-branded smart TV have abounded since 2011, when Walter Isaacson's famous biography revealed that Steve Jobs had an interest in revolutionizing the television industry.
The iTV, as it has been dubbed, is rumored to come equipped with app integration and Siri functionality. The latest rumors, which surfaced in March, suggested that Apple is currently working on an "Ultra HD" or "4K" television set with a resolution of 3840 x 2160.
Such a set could launch in late 2013 or early 2014, although a potential launch timeframe has been a moving target for Apple observers over the past several years as the company has apparently yet to make its TV work into a formal project.